General Information
The Children's sale is a seasonal sale held twice a year. Once in February & again in September.
Consignors must bring a minimum of 15 items.

Consignors with 15 or more items receive one "Consignor Pass" to shop the exclusive private consignor sale before the public sale begins. (4pm-9pm)

Each consignor will also be given one "Guest Pass" to shop on Pre-Sale night 3.0 hours after the consignors begin to shop. (7-9pm)

Consignors receive 65% of the selling price.
In addition there will be $7 deducted from each check.
All clothing must be sorted by Size and Gender when you bring them to the Sale for Drop-off.
All items must be inspected at drop off before a consignor may leave.
Checks and unsold items must be picked up on the designated pick up date.
Any unsold items not picked up by the designated pick up date will be donated to charity ( No exceptions ).
We will accept Cash, MasterCard, Visa and Checks. ( $30 Fee for returned checks )
We cannot be responsible for lost, stolen or damaged items.
My Kids Attic reserves the right to price items that do not have a price.
Any item missed at drop off not suitable for the sale will be pulled.
No strollers are allowed during the private consignor sale.
Our tagging method must be followed to ensure proper credit to the proper consignor. Information on tagging can be found in the "Consignors What to Do" section below.
Helpful pricing guide from our friends in TN ----> PricingGuide.pdf
Children's Sale – What to Bring
Only your best Fall & Winter items only, please.
Girls: * Newborn up to size 16 * Junior girls 0 - 15
Boys: * Newborn up to size 18/20 * Young men's Jeans & Pants
0-6 Months sizes will be limited to 15 outfits per gender.
Halloween costumes, Dress up outfits.
Children's Shoes are limited to 8 pairs of Size 4 and up. No Baby Shoes
Make sure all items you bring are clean and smell fresh. This will help them sell.
Please hang onesies, pj's and t-shirts on hangers.
Bedding sets should be packaged in large transparent plastic bags similar to what they were originally sold in.
When hanging shorts, skirts or slacks, pin them on both sides to the hanger at the waist. Do not fold over the hanger.
No stuffed animals except for those containing batteries. For example: Talking Elmo. TY Beanie Baby Disney & Nick products will still be accepted.
Ladies wear are sold at the Women's Sale in the Spring only.
Here are some suggestions!
| | | |
| --- | --- | --- |
| clothes | blankets | sports equipment |
| toys | hair bows | riding toys |
| strollers | high chairs | outside toys |
| play pens | car seats | children's bikes |
| baby beds | playhouses | nursery needs |
| books | bassinets | crib bedding |
| hats | portable cribs | nursing supplies |
| swings | videos | learning materials |
| diaper bags | pajamas | changing tables |
| tricycles | bottles | bed guardrails |
| cups | shoes | bunk beds |
| | | |
Children's Sale – What Not to Bring
Maternity Clothing.
Out of date clothing, stained, torn, or very worn looking.
Items with missing buttons, broken zippers or missing parts.
Used underwear or socks.
Any item that smells of smoke or musty.
Car seats made before 2008; check recalls at (800) 424-9393.
No diaper genies, potty chairs, bath tubs - they just won't sell

Due to the new regulations put out by the CPSC, ANY CRIB with drop-sides is illegal to sell. My Kids Attic will not be accepting/ selling any cribs with this design. Sorry for any inconvenience and thank you for your understanding with this new regulation.
Consignors What to Do
Make copies on CARDSTOCK using the master barcode copy we provide when you register. Please keep your master copy for future sales. Your consignor number will NOT change from sale to sale.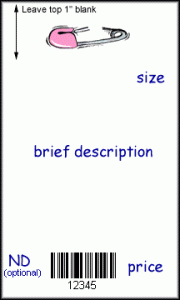 We will supply each consignor with a "master copy" of your "Consignor Tagging Cards." Your unique Bar-Coded consignor number will be pre-printed on each card for our scanners to read at check-out. Use your "master copy" to copy as many cards as needed. Copies must be made on a digital copier using at least 67lb weight card stock, similar to the weight of an index card. Office Depot can supply the cardstock & copier.
Fill out the Pre-Printed Bar-Coded Consignor Tag as shown above. Be sure to write the correct size, brief description, price (in dollar increments $2, $5, $10, $25 etc), on each tag.
ND means No Discount. If you put ND on your card, your item will not be sold at half-price.
Place clothing items on a hanger with hook facing left, like a question mark.
For clothing, attach the card at the top right of the item with a safety pin in the upper 1″ blank area. (Sorry – we can't accept straight pins or staples.)
For toys or other items, attach the card with clear tape, making sure that the card can be removed. Be sure to also include masking tape with your consignor # on each item. This will help if the tag gets lost or torn off.
Multi piece items such as toys and clothing: put a piece of masking tape with your consignor number on the pieces without the tag in case they get separated. Don't use another tag with your barcode (causes confusion at check out).
Use good descriptions on tags such as: boy "Old Navy" long sleeve blue shirt or girls 2 piece pink dress. Remember to put a piece of tape (not another tag) with your consignor number on each additional piece.
Size Items exactly. DO NOT use S, M, or L.
Shoes - Tie shoes together with CABLE TIES. Place masking tape with your seller # inside each shoe. Do not bring shoes in boxes or plastic bags.