General Information
Consignors receive one "Consignor Pass" to shop the exclusive private consignor sale before the public sale begins. (4pm-7pm)

Each consignor will also be given one "Guest Pass" to shop on Pre-Sale night 1.0 hour after the consignors begin to shop. (5-7pm)

Consignors receive 65% of the selling price.
In addition there will be $7 deducted from each check.
All clothing must be sorted by Size and Gender when you bring them to the Sale for Drop-off.
All items must be inspected at drop off before a consignor may leave.
Checks and unsold items must be picked up by the last pick up time.
Any unsold items not picked up by the last pick up date will be donated to charity ( No exceptions ).
We will accept Cash, MasterCard, Visa and Checks. ( $30 Fee for returned checks )
We cannot be responsible for lost, stolen or damaged items.
My Kids Attic reserves the right to price items that do not have a price.
Any item missed at drop off not suitable for the sale will be pulled.
No strollers are allowed during the private consignor sale.
Our tagging method must be followed to ensure proper credit to the proper consignor. Information on tagging can be found in the "Consignors What to Do" section below.
School Uniform Sale – What to Bring
Any River Region School Uniform (Public or Private School).
Blue Jeans for those "dress down days at school"
Sports related equipment
Exercise equipment
Karate Equipment.
Here are some suggestions!
| | | |
| --- | --- | --- |
| Football Helmets | Football Pads | Cleats |
| Baseball Helmets | Baseball bats | Baseball Gloves |
| Golf Clubs | Golf Bags | Soccer Equipment |
| Volleyball | Treadmills | Stationary Bikes |
| | | |
| | | |
| | | |
School Uniform Sale – What Not to Bring
No Shoes except cleats.
Out of date clothing, stained, torn, or very worn looking.
Items with missing buttons, broken zippers or missing parts.
Used underwear or socks.
Any item that smells of smoke or musty.
Locally sponsored team jerseys.
Consignors What to Do
Make copies on CARDSTOCK using the master barcode copy we provide when you register. Please KEEP your master copy for future use. Your consignor number will NOT change from sale to sale.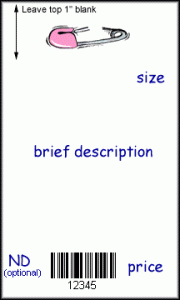 We will supply each consignor with a "master copy" of your "Consignor Tagging Cards." Your unique Bar-Coded consignor number will be pre-printed on each card for our scanners to read at check-out. Use your "master copy" to copy as many cards as needed. Copies must be made on a digital copier using at least 67lb weight card stock, similar to the weight of an index card. Office Depot can supply the cardstock & copier.
Fill out the Pre-Printed Bar-Coded Consignor Tag as shown above. Be sure to write the correct size, brief description, price (in dollar increments $2, $5, $10, $25 etc), on each tag.
ND means No Discount. If you put ND on your card, your item will not be sold at half-price.
Place clothing items on a hanger with hook facing left, like a question mark.
For clothing, attach the card at the top right of the item with a safety pin in the upper 1″ blank area. (Sorry – we can't accept straight pins or staples.)
Multi piece items put a piece of masking tape with your consignor number on the pieces without the tag in case they get separated. Don't use another tag with your barcode (causes confusion at check out).
Use good descriptions on tags such as: boy "Nike" Football Helmet Large.
Size Items exactly.
Cleats - Tie cleats together with CABLE TIES. Place masking tape with your seller # inside each cleat. Do not bring cleats in boxes or plastic bags.